Some of the best materials for outdoor structures and hardscaping are also the most susceptible to early signs of aging when they are left untreated. Protect your home's wood, concrete, stone, and brick surfaces by hiring our sealant company in Greenville, SC.
We use a professional-grade sealer that fills the pores of your wood, stone, or concrete structure to create a surface that is seemingly solid. After the sealant is applied, your structure will immediately be impervious to harsh weather conditions, foot traffic, spills, and more. When you work with one of the best wood and concrete sealing companies in Greenville, SC, preserving your outdoor space's aesthetic appeal and structural integrity has never been easier or more cost-effective.
Why Is It Important to Apply a Wood Sealant to Your Deck or Dock in Greenville, SC?
Because there's no easy way to throw a tarp or protective cover over your deck and dock when it's not in use, their wood planks are constantly battling the sun's rays and exposure to rain, sleet, snow, ice, and water. You don't have to watch as your wooden structure succumbs to the elements within only a few years. Instead, you can hire our sealing company in Greenville, SC, to apply a protective coating to the surface.
Our patented sealant keeps your wood deck or dock from rotting and decaying due to exposure to moisture and pests. The sealer penetrates the plank rather than simply resting on the surface to provide long-term protection. When you hire our sealant company in Greenville, SC, you can feel confident that we will protect your investment for decades.
When you're on the hunt for concrete sealing companies in Greenville, SC, you need to look for professionals offering state-of-the-art sealing processes. At DuraSeal, we've perfected our approach to providing the best customer care and highest quality results. Our concrete sealing process involves four steps:
We will first provide a thorough explanation and a free, no-obligation quote on our services so that you will know exactly what to expect.
On the day of application, our sealing experts in Greenville, SC, will cover doors, windows, plants, and anything else near the surface being sealed to ensure these items are sufficiently protected. We use eco-friendly and safe cleaners and sealers, but we don't want to risk the condition of your property in any way, so we take this step as a precaution.
Now, we thoroughly clean the concrete using environmentally friendly and toxin-free cleaners to remove dirt, grease, oils, and stains.
Finally, we apply our patented sealant while the concrete is still wet to ensure the material completely absorbs the product.
Should You Hire a Professional Wood Siding Sealer in Greenville, SC?
As an owner of a log cabin or house with wood siding, you know how important it is to maintain the logs protecting your household and creating that timeless appeal. One of the best ways to prevent rotting, warping, cracking, decaying, and pest infestations is to apply a wood sealer to the logs. While some homeowners believe they can apply this sealer on their own, it is often in your best interest to hire a professional sealant company in Greenville, SC, to handle the application.
By hiring our sealing experts in Greenville, SC:
You could save your time for more important things, like hiking with your family or planting flowers and shrubs to enhance the appearance of your log cabin.
You could save money because our sealant will only need to be applied once, while the sealers you can get for a DIY project will need to be reapplied every one to three years.
You can trust the job will be done right since we use eco-friendly cleaners and professional-grade sealants to preserve your cabin's siding.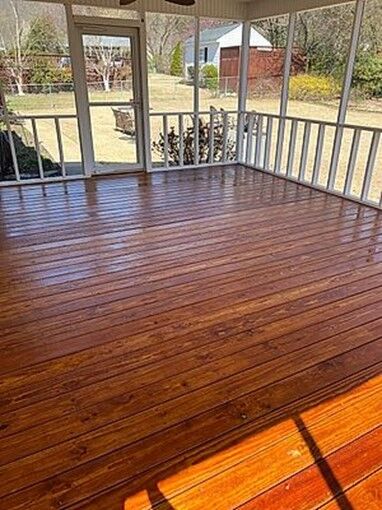 Ideally, you will want a professional sealant company in Greenville, SC, to apply a protective coating to your pergola or fence within the first few months or year that it is constructed. However, you can still have your wooden structure sealed even if it is already a few years old, painted, or stained. Our experts will remove the paint or stain to restore the surface to its original glory. Then, we'll apply the sealant while the surface is still wet. In fact, because the wood needs to be saturated when we seal it, we can complete your project even when it's raining.
How Long Should You Wait to Apply a Stone and Masonry Sealant to Your Newly Built Structures in Greenville, SC?
A masonry sealer can provide a moisture barrier that preserves the appearance and integrity of your hardscaping. When this layer has been properly applied, rain, ice, snow, water, and spills have no chance of damaging or staining your stone or brick surfaces.
You will want to hire our sealing company in Greenville, SC, as soon as the mortar on your hardscaping cures. It takes about a month for the mortar to cure completely. After this time, we can apply the seal so that your new structure will look amazing for years.
Start Preserving Your Exterior Structures and Hardscaping Today!
When your wood, concrete, brick, and stone structures go unprotected season after season, they will begin to break down as a result of continual exposure to moisture. Fortunately, preserving the appearance and integrity of your siding, driveway, walkways, patio, deck, fence, and pergola is simple when you hire our sealant company in Greenville, SC. We'll apply a high-quality seal that will keep your structures looking pristine for several decades. Get in touch with our team today to receive an obligation-free quote on your project.