You spent time and money selecting every little detail of your home, including the materials used for your driveway, deck, patio, pavers, and fence. You don't want to see this effort crumble before your eyes within a few years when the elements have a way with your outdoor structures and hardscaping. Instead, you can protect the beauty of your property by partnering with our sealant company in Charlotte, NC.
Our expert technicians will seal your outdoor surfaces with high-quality sealants that will prevent the wood, concrete, brick, or stone surface from cracking, warping, staining, and growing mold and mildew. When you choose DuraSeal over other wood and concrete sealing companies in Charlotte, NC, you can relax knowing that the appearance of your outdoor living space will be preserved for several decades.
Preserve Your Deck & Dock With Wood Sealant in Charlotte, NC
Whether you've recently installed a new wood deck and dock or have had yours for several years now, you will want to have the surface sealed. Wood is a very porous material susceptible to moisture damage and needs a protective coating to prevent it from rotting, warping, and cracking prematurely.
Our sealant company in Charlotte, NC, has the perfect solution for preserving the appearance and integrity of wood decks and docks. Our sealer does not simply rest on the surface of the wood planks. Instead, it seeps into the material, providing superior moisture and water protection. When you have our sealant applied to your wooden structure, you can trust you will not have to worry about your deck or dock decaying or becoming discolored.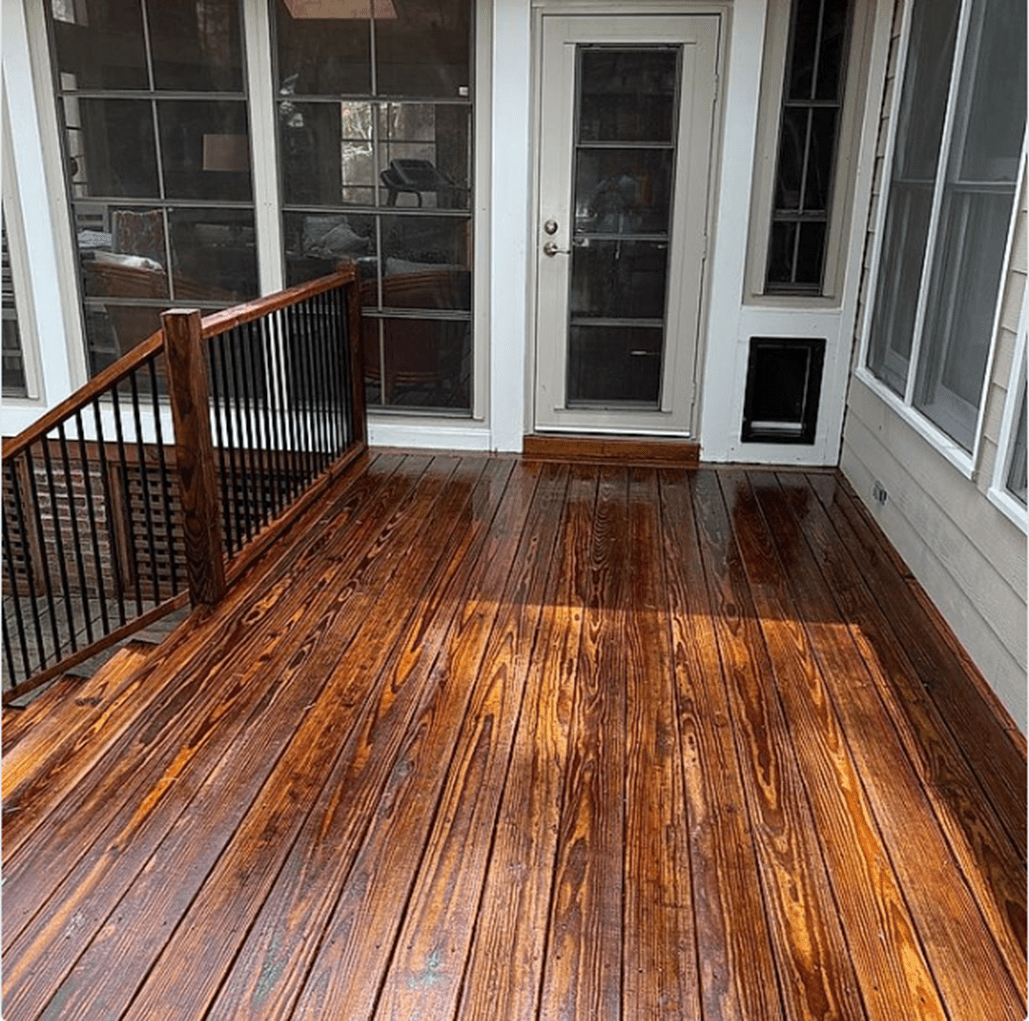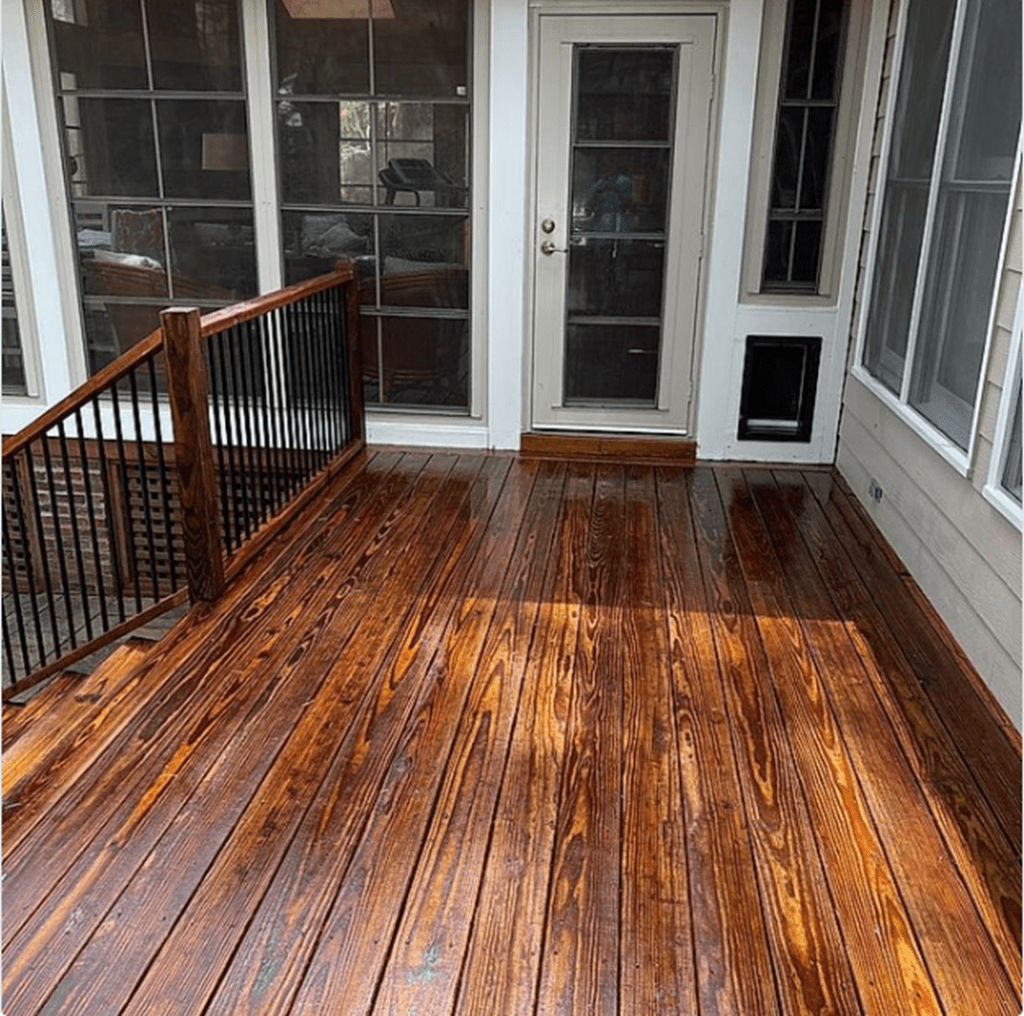 Concrete is a popular choice for driveways, pool decks, and patios across North Carolina because of its affordability and versatility. However, many homeowners do not realize that the material requires an extra layer of protection to slow the effects of aging and weathering. The good news is that it's never too late to apply this necessary protective coating to preserve the appearance and value of your property.
As one of the leading concrete sealing companies in Charlotte, NC, we understand the unique conditions to which your driveway, patio, deck, and pathways are exposed. We use a specially formulated sealant to prohibit the effects of weathering, including spalling and water damage, and enhance the natural appearance of your hardscaping. When you hire our sealant company in Charlotte, NC, you can feel confident your concrete will be protected for at least 25 years.
Protect the Timelessness of Your Log Cabin With Wood Siding Sealer in Charlotte, NC
Your home's siding takes a beating as it protects your household from outside elements. While natural wood siding is gorgeous, it needs to be fortified with a sealant to prevent signs of premature aging and damage. Our sealing company in Charlotte, NC, uses a professional-grade sealant to protect your log cabin's siding from the elements and extend its lifespan.
Our sealing experts in Charlotte, NC, will carefully clean your home's wood siding before applying the sealant to ensure dirt does not prevent the seal from locking into place. As soon as we finish applying the specialized sealant, your log cabin will be protected from high temperatures, snow, sleet, rainfall, ice, and wood-boring insects. Wood rot and decay will not stand a chance against your properly sealed logs.
Enhance the Beauty and Integrity of Your Wooden Structures With Pergola and Fence Sealing in Charlotte, NC
You chose your wood pergola and fence not only for their aesthetic appeal but also for their protection. The pergola allows you to relax on your patio whether it's raining or the sun's rays are harsh. Your fence gives your backyard a layer of privacy and even allows you to feel confident letting your kids play outside alone. If the wood making up these structures begins to rot and decay, your sense of security is stripped away slowly but surely.
Fortunately, you can rely on our sealant company in Charlotte, NC, for coating solutions that will protect the structural integrity of the objects that protect you and your family. Our pergola and fence sealer allows the natural beauty of the wood to shine while prohibiting the onset of decay. Once your wooden structure is sealed, you can feel confident that you have effectively extended the lifespan of the pergola or fence.
Care for Your Patio, Pavers, and Pool Deck With Stone and Masonry Sealant in Charlotte, NC
While brick and stone are highly durable materials, they are still susceptible to water damage due to their porous nature. For this reason, you will want to hire sealing experts in Charlotte, NC, to seal your patio, pavers, pool deck, retaining wall, firepit, and any other structure made of brick or stone. Our professional-grade sealant will protect your stonework from freeze-thaw damage, water seepage, spalling, stains, and more. It will also boost the appearance of the stone and bricks, ensuring you feel proud inviting guests to your home.
Get in Touch With Our Sealing Company in Charlotte, NC, Today!
Your exterior wood, concrete, and stone structures significantly affect your property's aesthetic appeal and value. Keep your home and outdoor living space looking pristine by partnering with our sealant company in Charlotte, NC. We also provide our services in Raleigh, NC, and Wilmington, NC. If you're interested in learning more about our sealing solutions, contact our team today for a free quote on your project!