You've spent years designing and constructing the home of your dreams. It would be a shame if all your hard work and investments cracked, crumbled, and deteriorated within the next few years as the changing seasons rolled in and out. Fortunately, there's something you can do to protect the aesthetics of your property for more than two decades. By partnering with our sealant company in Atlanta, GA, you guarantee your wood, concrete, brick, and stone exterior structures and hardscaping will not lose the beauty of their natural finishes or crumble from moisture damage.
Our sealant specialists will apply a professional-grade sealer to your outdoor surfaces to create a protective barrier that will prevent the structure or hardscaping from cracking, spalling, and staining. This moisture barrier will also keep mold and mildew at bay, ensuring that your deck, fence, patio, or pathway remains gorgeous. When you hire DuraSeal over other wood and concrete sealing companies in Atlanta, GA, you can feel confident that your outdoor living space will not be affected by weathering or aging for years to come.
Maintain Your Deck and Dock With Wood Sealant in Atlanta, GA
Have you recently built a wood deck or dock? Do your deck and dock look worse for wear? If you answered yes to either of those questions, you should consider hiring sealing experts in Atlanta, GA, to seal the structure. Wood features hundreds of microscopic pores that soak in moisture, much like a sponge. Over time, this constant absorption of water, oils, grease, and spills causes moisture damage. A protective coating is needed to prevent the wood from cracking, warping, and rotting within only a few years.
When you hire our sealing company in Atlanta, GA, you can trust we will provide a long-lasting solution that will protect the appearance and structural integrity of your wood deck or dock. Our patented sealant does not simply cover the surface of the wood planks. Instead, it seeps into the wood fibers, making the entire structure moisture and water-resistant. With this sealer locked in place, you will not have to worry about the deck or dock deteriorating prematurely.
Protect Your Hardscaping Investment With Concrete Sealing Services in Atlanta, GA
When constructing your forever home, you could have settled for the standard deck and bare backyard, but instead, you decided to go all-in and design the home of your wildest dreams. Now, you have a carefully paved concrete driveway, pool deck, patio, and walkways surrounded by colorful flowers, flourishing bushes, and shade-providing trees. You don't want your hardscaping to age prematurely, dragging down your property's appearance and value. Instead, you need to preserve your hardscaping by hiring a sealant company in Atlanta, GA.
As one of the best concrete sealing companies in Atlanta, GA, we know exactly what your hardscaping needs to fight back against the conditions to which they are exposed. We use a scientifically formulated sealant to prevent the effects of weathering and water damage and enhance the natural finish of your concrete structures. With your hardscaping covered by our concrete sealer, you can enjoy your outdoor living space for years to come.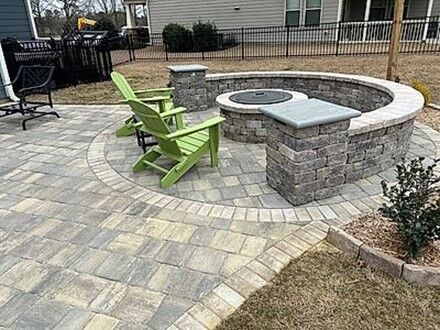 Enhance the Timelessness of Your Cabin With Wood Siding Sealer in Atlanta, GA
Besides the roof, your cabin's siding is your home's first defense against the elements. Because it's exposed to everything from harsh sun rays to heavy rainfall, snow, and ice, the wood siding needs to be fortified with a protective coating to prevent signs of weathering and damage. Luckily, you can turn to our sealing company in Atlanta, GA, for a long-lasting solution.
When you hire our professionals, we will use a high-quality sealant to extend the lifespan of your cabin's siding. The wood sealer works by penetrating the fibers of the material and enabling them to fight the effects of the elements. As soon as our sealing experts in Atlanta, GA, finish applying the seal, your home's wood siding will be protected from extreme temperatures, rainfall, sleet, snow, ice, and wood-boring insects. You will not have to worry about your log cabin rotting or decaying for the next 25 years.
Care for Your Wooden Structures With Pergola and Fence Sealing in Atlanta, GA
You selected your pergola for the protection it provided from the sun and rain and your wooden fence for the protection it provided your family. You don't want these structures to succumb to the effects of the elements because, as soon as they start rotting and decaying, their protection disappears.
Fortunately, you can turn to our sealant company in Atlanta, GA, for a solution that will preserve not only the structural integrity of your pergola and fence but also the natural finish of the wood. Our sealer will prohibit the onset of decay and allow your pergola and fence to protect you and your family for several decades.
Preserve the Beauty of Your Patio, Pavers, and Pool Deck With Stone and Masonry Sealant in Atlanta, GA
Brick and stone may be highly durable, but they can still be damaged by water and moisture because of their porous nature. To keep your patio, pavers, deck, retaining wall, and firepit from breaking apart due to damage from the elements, you will want to have their surfaces sealed by a professional sealant company in Atlanta, GA. We'll make sure your brick and stonework are protected from water seepage, spalling, freeze-thaw damage, stains, and more by applying a professional-grade sealant. With the sealer in place, you can gaze upon your masonry with pride.
Receive a Free, No-Obligation Quote on Our Sealing Services!
One of the best ways to protect your property's value and aesthetic appeal is to apply a sealant to your wood, concrete, and stone structures and hardscaping. Our sealant company in Atlanta, GA, can help you maintain a beautiful outdoor space with our specially formulated sealer. If you're interested in our sealing solutions, contact us today for a free quote!