Have you recently installed a new deck or dock? Protect it with a specially formulated sealer for decks and docks. DuraSeal provides decades of protection for wood surfaces exposed to a variety of conditions. Our wood sealant, available to residents in NC, SC, GA, and FL, can even restore old surfaces to their original condition and allow their natural finishes to shine for years to come. Don't worry about rotting, warping, or cracking deck and dock surfaces ever again.
We proudly offer our deck and dock sealing services throughout the southeast, including:
The Benefits of Sealing Over Staining a Deck
Wood decking surfaces are filled with tiny pores that absorb moisture. Over time, this moisture can cause unsightly and hazardous damage. Many homeowners erroneously believe that staining a deck will prevent it from weathering. However, this topcoat simply rests on the surface of the wood and will wear off within a year or three.
A permanent deck sealer, on the other hand, will enhance the wood's natural appearance and protect it from the effects of changing seasons for several decades. It does this by penetrating the wood planks rather than resting on the surface. If you would like to change the color of your deck, you can invest in deck staining services after the permanent deck coating has had a chance to cure. The results of the staining will last longer if you have the deck sealed first.
If you're ready to protect your deck from cracking, splitting, warping, and mold growth, choose our patented wood sealant available in NC, SC, GA, and FL over deck staining. We can also help you preserve the beauty of your other wooden structures with our wood siding sealer and pergola and fence sealing services. No project is too big or small for our experts.
Should You Paint or Stain Your Deck Before Sealing It?
Before investing in deck staining services, you should have your deck sealed. Our specially formulated sealant for decks ensures the paint or stain remains on your deck for several years. If your deck is painted or stained before the permanent deck coating is applied, the paint or stain may come off as the surface is cleaned. To ensure your wood deck has complete protection and looks exactly how you want, we recommend sealing the surface before doing anything else.
How Does Our Sealing Process Work?
When you choose our wood sealant for decks in NC, SC, GA, and FL, you can trust our team to care for your property from start to finish. Once we ensure everything is properly covered, we will thoroughly clean your deck. We'll start by pressure washing the surface to remove dirt, grease, and pet stains. Then, we'll scrub the deck using non-toxic cleaners. Before applying our patented sealant for decks, we will rinse away the soap and ensure the wood is fully saturated.
After rinsing away the cleaner, our team will apply the permanent deck sealer across the entire surface. Before packing up and leaving you to enjoy your newly sealed deck in Charlotte, NC, Raleigh, NC, Wilmington, NC, Greenville, SC, Atlanta, GA, Jacksonville, FL, or Tampa, FL, we will inspect the wood planks to ensure the professional-grade sealer for decks seeped fully into the wood.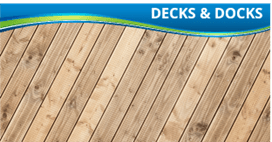 Protect Boat Dock From Rot and Decay With a Sealer for Docks
Whether on the lake or the ocean, your dock is exposed to the impacts of extreme weather and water damage day in and day out. Dock staining can only do so much in protecting the wooden planks from the sun's UV rays. In order to slow the signs of deterioration, rot, decay, discoloration, and damage as a result of the constant exposure to lake or ocean water, you need to apply a wood sealant formulated for the conditions in NC, SC, GA, and FL.
Our permanent dock sealer creates a barrier between the wooden planks and the elements pounding its surface. For at least 25 years, you will not have to worry about your dock failing you. You will be able to soak up the sun, jump into the cooling waters, and launch your boat from a sturdy dock for years on end.
When Is a Good Time to Have My Dock Sealed?
You can schedule dock sealing services at any point that is good for you! We can apply our sealant for docks any time of year, even in winter. Summer is often our busiest time since most people are heading to the lake or ocean to soak up some rays and hit the waves. We can usually apply a permanent dock sealer within a few weeks of your quote in the spring or fall.
How Long Does the Dock Sealing Process Take?
Our experts can typically apply our professional-grade sealant for docks in one day. How long your particular project will take will depend on the size of the dock.
When Can You Use Your Dock After It Has Been Sealed?
You can begin enjoying your newly sealed dock as soon as our team leaves. Jump off its surface into the lapping waves or launch your boat from the dock for a day out on the lake. We just recommend waiting a day before putting furniture or storage containers back on the saturated wood.
If you're interested in dock staining, you will want to wait at least 60 days after the dock has been sealed before starting the process.
Receive a Quote for Your Deck or Dock Sealing Project Today
Don't leave your deck or dock vulnerable to water damage. Instead, protect it with a high-quality wood sealant available in NC, SC, GA, and FL. Our sealant will protect your deck or dock surface from rot and decay for several decades.
If you're in Charlotte, NC, Raleigh, NC, Wilmington, NC, Greenville, SC, Atlanta, GA, Jacksonville, FL, or Tampa, FL, contact us today for an obligation-free quote! You can also inquire about our concrete sealing services and stone and masonry sealant to protect your entire property from weathering.